Countdown: Women Who Rock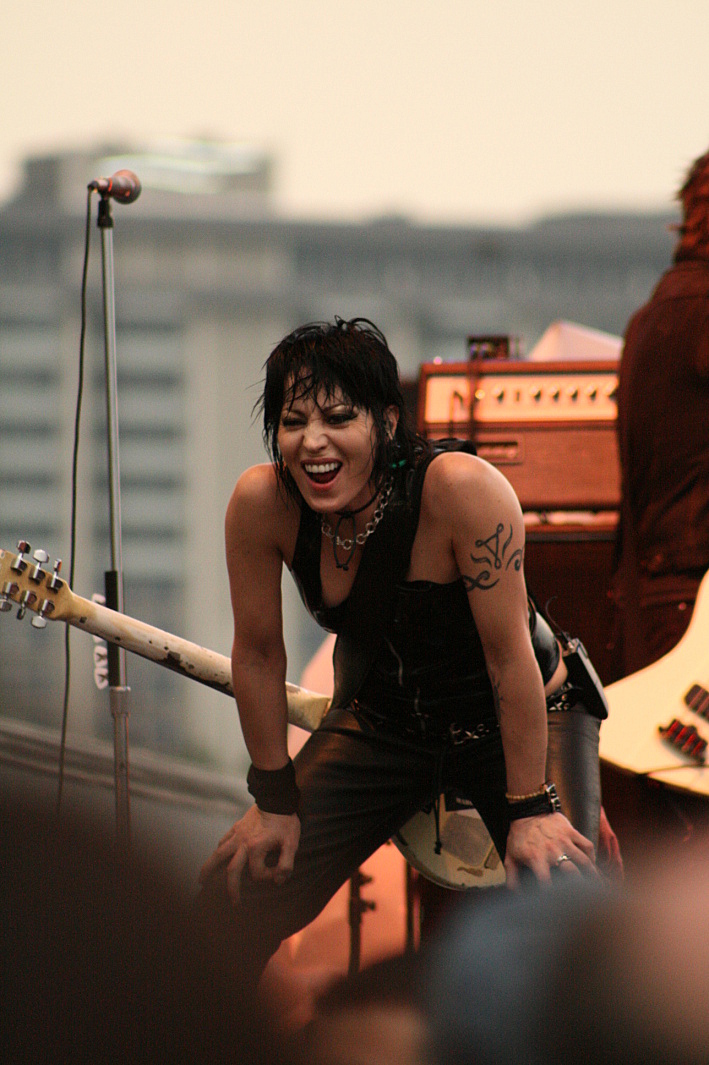 March is Women's History Month, and we want to celebrate women who rock. So we decided to take a poll of The Current listeners favorite female artists to inform our "Women Who Rock Countdown."
With your help, we compiled a list of over 200 of our favorite female artists, you voted, and here are the results. Rock on!
Liz Phair
Emmylou Harris
Thao Nguyen (Thao and the Get Down Stay Down)
Madonna
Pussy Riot
Caroline Smith
Go-Gos
Lorde
Lydia Liza (Bomba de Luz)
Sinead O'Connor
Regina Spektor
Courtney Love (Hole)
Grace Slick (Jefferson Airplane)
Kate Bush
Missy Elliott
HAIM
Lily Allen
Loretta Lynn
Kate Pierson (B-52s)
Melissa Etheridge
The XX
Pink
Gwen Stefani
Indigo Girls
Lady Gaga
Linda Ronstadt
Brittany Howard (Alabama Shakes)
Portishead
Savages
Wanda Jackson
Alanis Morrissette
Judy Garland
Diana Ross (The Supremes)
Alison Mosshart (The Kills/Dead Weather)
Merrill Garbus (tUnE-yArDs)
Queen Latifah
Tina Weymouth (Talking Heads/Tom Tom Club)
Jenny Lewis
Santigold
June Carter Cash
Lana Del Ray
Lissie
Whitney Houston
Beach House
Gillian Welch
Mavis Staples
Channy Leaneagh (Polica)
Chastity Brown
Cass Elliot
Sia
Carly Simon
Sharon Van Etten
Suzanne Vega
Bat For Lashes
Big Mama Thornton
Dusty Springfield
Gladys Knight
Laura Marling
Cher
Haley Bonar
Lykke Li
Nico
Sheryl Crow
Suzi Quattro
Cowboy Junkies
Heartless Bastards
Nancy Sinatra
Amanda Palmer
Aby Wolf
Elastica
Grimes
Joanna Newsom
Laurie Anderson
Lucy Michelle
Luscious Jackson
Peggy Lee
Soviettes
Valerie June
Bikini Kill
Bessie Smith
Beth Ditto (The Gossip)
Donna Summer
Grace Potter
Sarah Vaughn
Stars
Exene Cervenka (X)
Goldfrapp
Marianne Faithfull
Yoko Ono
Alicia Keys
Lori Barbero (Babes in Toyland, Koalas)
Peaches
Poison Ivy (The Cramps)
Tammy Wynette
Warpaint
Courtney Barnett
Desdamona
Grace Jones
Kate Nash
Kristen Hersh
Tanya Donnelly (Belly)
Barbra Streisand
Poly Styrene (X-Ray Spex)
Stereolab
Susan Tedeschi of Tedeschi Trucks Band
Susanna Hoffs (The Bangles)
Alison Moyet (Yaz)
Coco Rosie
Joan Baez
Kat Bjelland (Babes in Toyland)
Roberta Flack
Sarah Barthel (Phantogram)
Ritzy Bryan (The Joy Formidable)
Cibo Matto
Kathleen Edwards
Kirsty MacColl
Shirley Bassey
Tina Schlieske (Tina and the B-Sides)
Alison Mosshart (Killers/Dead Weather)
Bethany Constentino (Best Coast)
Dionne Warwick
The Knife
The Waitresses
Detroit Cobras
Johnette Napolitano (Concrete Blonde)
Madeline Peyroux
Maria Isa
Tracy Thorn (Everything But The Girl)
Kim Shattuck (The Muffs)
Lucius
Shovels & Rope
Wild Flag
Zuzu's Petals
Alexis Krauss (Sleigh Bells)
Elizabeth Fraser (Cocteau Twins)
Jolie Holland
Pink Mink
Saint Etienne
Shawn Colvin
The Slits
Dum Dum Girls
Irma Thomas
Laura Jane Grace (Against Me)
Hope Sandoval (Mazzy Star)
Judy Collins
Poe
Sam Phillips
Sharin Foo (Raveonettes)
Sister Rosetta Tharpe
Cocteau Twins (Elizabeth Fraser)
Koko Taylor
Michelle Leon (Babes in Toyland)
Amy Lee
Dressy Bessy
Eleanor Friedberger (Fiery Furnaces/solo)
Georgia Hubley (Yo La Tengo)
Kerry Alexander (Bad Bad Hats)
Mary Wells
the Clams
The Motels
Tracyanne Campbell (Camera Obscura)
Sarah McLachlan
Beth Hart
Anonymous Choir
Au Revoir Simone
Claire de Lune
Pauline Black (The Selecter)
Tanya Tucker
The Raincoats
Candi Staton
Harriet Wheeler (The Sundays)
Jessie Ware
Lisa Germano
Tetes Noir
Related Stories
9:30 Coffee Break: Iconic Women in Music Happy International Women's Day! We're keeping the theme simple today and honoring iconic women in music. Give us your suggestions for who we should play for the iconic women in music Coffee Break.
9:30 Coffee Break: Women Rock In honor of Jan Kuehnmund and all the other female rockers out there, let's put together a list of songs from women who rock for today's 9:30 Coffee Break.
1 Photo
Which women who rock will top our poll?

(Courtesy the artists / Nate Ryan, MPR Photos

)