Rock the Garden 2016: Thanks for rocking with us!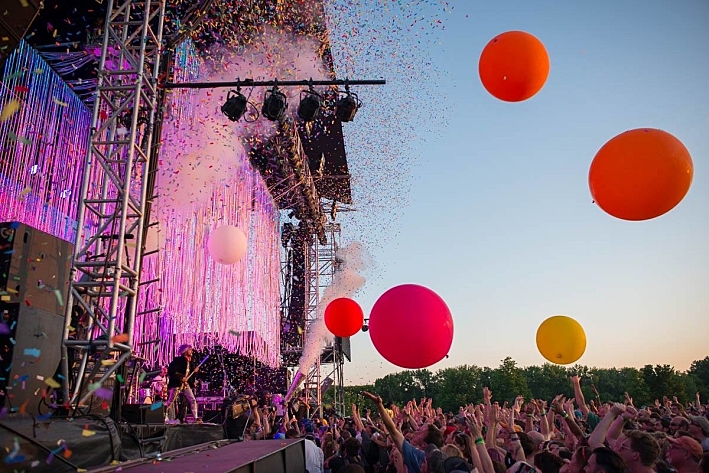 Thanks so much for coming out to Rock the Garden 2016! Relive the day in photos in our social media round up, and be sure to tune in June 30, when we'll be broadcasting highlights throughout the day.
Rock the Garden 2016 Coverage
Individual sets featuring audio are posted below.
Rock the Garden Again
On Thursday, June 30, 2016 we'll rebroadcast highlights from all eight sets on-air starting at 10 a.m. CT! (We'll post photos, videos and audio online, too!)
Chance The Rapper – Pending approval
Tickets
Tickets are SOLD OUT.
Reentry is allowed.
Children ages 6 and older must have a ticket for entrance. No refunds; all ticket sales are final. Advance tickets are print-at-home and will be received by e-mail. For online issues, call Etix Customer Support: (800) 514-3849.
Stay Connected
Follow Rock the Garden on Facebook and Twitter to be the first to hear about the lineup. to receive Cross Currents, The Current's weekly newsletter. Use the hashtag #RockTheGarden on Twitter and Instagram to join the conversation and be sure to RSVP on Facebook.
Lineup
The 2016 Rock the Garden lineup will be revealed on The Current during Oake & Riley in the Morning and online Tuesday, April 5 from 9 to 10 a.m. CT.
Formed in Oklahoma City in 1983, the Flaming Lips have released 16 studio albums. Their sound features lush, multi-layered, psychedelic rock arrangements, while the their lyrics contain elements of space rock, including unusual song and album titles. Fronted by the affable Wayne Coyne, the Flaming Lips are known for their visually enchanting live shows, which often include elaborate light effects, confetti, and Coyne himself appearing within a large plastic bubble.
Inspired by artists from Prince to James Brown to Kanye West, Chance The Rapper lives up to his name: He takes chances. As a high school senior, Chance found himself at the forefront of a bustling Chicago hip hop scene after spontaneously releasing his debut mixtape that was recorded over 10 days in a public library studio. A year after its release, he was already playing the local — but ginormous — music festival Lollapalooza, not 10 miles from his South Chicago neighborhood. At 23 years old, Chance's latest gospel-inspired mixtape Coloring Book dropped last month. 2015's "Sunday Candy" with Donnie Trumpet and the Social Experiment was a favorite of The Current listeners.
Polica first came through the woodworks in 2011 when producer Ryan Olson assembled some of Minneapolis' finest musicians. Following their distinctive debut Give You the Ghost, Polica garnered well-deserved national attention for their 2013 follow-up, which featured Bon Iver's Justin Vernon on its lead single. Like Shulamith, the title of their latest effort commends the philosophies of a local artist collective admired by lead vocalist Channey Leaneagh. United Crushers is another synth-pop, bass-pounding, drum-heavy delight from a group that has graced major festival stages including Bonnaroo, Glastonbury, Coachella and Austin City Limits.
Portland, Ore., based singer-songwriter and producer M. Ward is known for his folk and blues-inspired tunes, which he faithfully records in analog. Ward has released a number of solo albums over the past several years, along with five LPs as part of She & Him with Zooey Deschanel, as well as a 2009 album with Monsters of Folk, a supergroup that includes Rock the Garden alumni Jim James (My Morning Jacket) and Conor Oberst. In March, Ward released his eighth solo album, More Rain, on which he collaborated with luminaries Neko Case, k.d. lang, The Secret Sisters, R.E.M.'s Peter Buck and NRBQ's Joey Spampinato.
It's been a wild ride for Hippo Campus, who haves skyrocketed to national prominence since forming after high school graduation in 2013. The quartet of Jake Luppen, Nathan Stockert, Zach Sutton and Whistler Allen have already played Conan and toured with high-profile indie acts like Walk the Moon and My Morning Jacket, all on the strength of their nostalgia-inducing, achy, hamonic guitar-pop and explosive live energy. Their latest EP, South, was released in late 2015 to critical acclaim.
Born in Hermann, Mo., Nathaniel Rateliff relocated to Denver, Colo., about 18 years ago, and over time, has built a loyal following in Denver for his pensive, folk-based songs. In 2013, Rateliff expanded to a full band, and two years later, released the self-titled album Nathaniel Rateliff and the Night Sweats on the Stax Label. The album has garnered praise from critics and the listening public alike for the soulful sound of songs such as "S.O.B.", "I Need Never Get Old" and "Howling at Nothing."
Few live acts pack the punch of GRRRL PRTY, the explosive rap group led by MCs Lizzo, Sophia Eris, and Manchita. Backed by one of the Twin Cities' most revered DJs, Shannon Blowtorch, the fiery trio spit shrapnel about empowerment, pain, loss, and partying with a purpose, blazing a red-hot trail through the male-dominated hip-hop world. Their latest EP, GRRRL PRTY X BIONIK, was released at the end of 2015. GRRRL PRTY's Rock the Garden performance will sadly be their last.
Plague Vendor are a take-no-prisoners rock band from southern California. They call their style "voodoo punk": thrashing guitars and wailing vocals over a hypnotic pulse from the rhythm section. Their recently-released second album "Bloodsweat" takes this signature sound to new heights, and they've built a national buzz around surging songs like their single "Jezebel."
Details
Doors open at 1 p.m.; music starts at 2:30 p.m. This event will be filmed, photographed, or recorded by the Walker and/or 89.3 The Current. Ticket holders consent to appear in this documentation and its future use by the Walker and 89.3 The Current.
No outside food or beverages allowed in the event. Only empty water bottles will be permitted. No umbrellas, lawn furniture, coolers, or pets are allowed. Blankets and strollers are allowed. No professional photography or audio recording equipment allowed. No outside soliciting. No guns allowed. All bags subject to search.
Weather
Rock the Garden will be held rain or shine. However, staff reserves the right to cancel the event or part of the event due to severe weather. No umbrellas are allowed into the event.
Transportation
If you live in the area, please walk, bike, or take public transportation:
Bike racks with parking for 500+ bikes will be located at the south end of Boom Island Park. A Nice Ride bike drop-off station will be located on the corner of Marshall and 8th Ave. NE.
A Nice Ride bike drop-off station will be located on the corner of Marshall and 8th Ave. NE. Throughout the day from 12:30 to 11 p.m., team members will be on-site to ensure a guaranteed dock to return your Nice Ride bike and end your trip. Note: the Nice Ride Boom Island Station will be unavailable during Rock the Garden.
All ticket holders are eligible for a free ride on buses and light rail to and from the event between the hours of 12 noon and 12 midnight. Visit Metro Transit to fill out a short survey and redeem a free pass. Metro Transit bus lines: 11, 14.
There will be a tiki tram running all day to and from Psycho Suzi's, the location of the official Rock the Garden pre-party. Tiki tram rides cost a reasonable $5 per person each way.
Parking
Paid event parking is available at Hall's Island, on 8th Ave. NE across the street from Boom Island Park. No parking is allowed in the neighborhood surrounding Boom Island, so please plan accordingly or walk, bike, or bus!
Free Hydration
Bring your empty water bottle and enjoy refreshing cold water throughout the Rock the Garden concert grounds provided by Tap Minneapolis.

Special Member Benefit
Walker Art Center and Minnesota Public Radio members: Bring your member card to receive a free Rock the Garden 2016 gift for being a supporter, or just stop by the MPR membership booth for a photo-op and meet & greet with The Current hosts throughout the day!
1:30 to 2 p.m. Sean McPherson
2:30 to 3 p.m. Mark Wheat
3:30 to 4 p.m. Andrea Swensson
4:30 to 5 p.m. Jade
5:30 to 6 p.m. Jill Riley and Brian Oake
6:30 to 7 p.m. Bill DeVille
Sponsors
Lead Sponsors
Media Partner
Official Beer
Supporting Sponsors
VIP Sponsor
On-Site Sponsors
FAQ
Q: When is Rock the Garden?
A: Saturday, June 18, 2016 from 2-10 p.m. CT.
Q: Where is the event taking place?
A: Because of ongoing construction at the Walker Sculpture Garden, this year's Rock the Garden will be held at Boom Island in Northeast Minneapolis.
Q: When will you announce the lineup?
A: Tuesday, April 5 during Oake & Riley in the Morning on The Current. You can also follow The Current on Facebook and Twitter or sign up to receive Cross Currents, The Current's weekly newsletter, for updates.
Q: When do tickets go on sale?
A: Tuesday, April 5, 2016 at 10 a.m. CT for Minnesota Public Radio and Walker members. Wednesday, April 6, 2016 at 10 a.m. for the general public.
Q: How much are tickets? What about the member discount? Will there be a VIP area?
A: Ticket prices and member discount information is available above.
Q: How many bands will perform?
A: We'll have two stages with eight bands throughout the day – a true rock festival experience!
Q: Where will I park? What about transit options? Will there be bike racks?
A: Not to worry! We'll update attendees with specifics on parking, transit options, vendors and a handy site map closer to June.
Q: Will you be live broadcasting Rock the Garden?
A: We will not be broadcasting live the day of Rock the Garden but we will air highlights from each set on Thursday, June 30 starting at 10 a.m. CT.
Sign up for Rock the Garden Info from The Current
Past Rock the Garden Coverage
Resources
What is Spotify?
5 Photos
Wayne Coyne of the Flaming Lips

(MPR Photo/Nate Ryan

)

Chance the Rapper

(MPR Photo/Nate Ryan

)

Wayne Coyne of the Flaming Lips

(MPR Photo/Nate Ryan

)

Chance the Rapper

(MPR Photo/Nate Ryan

)

Chance the Rapper

(MPR Photo/Nate Ryan

)
View 4 more photos